Our manufacturing expertise and first rate service are renowned in the industry and Quiligotti Terrazzo has been specified by architects, designers and building services professionals in some of the most high profile projects across the world.
The names Quiligotti and Terrazzo are simply synonymous – both offering premium quality, unlimited flexibility, excellent value for money and decades of reliable service.
All Quiligotti customers have the support of our technical team to help and advise. We don't just supply tiles, we provide backup from design and specification stages through to fixing and installation.
To this day, Terrazzo remains one of the most versatile and durable hard flooring options available. Andrea Palladio used Terrazzo in his Venice villas in the 1560's and it has been a natural choice for top quality design ever since. Over 450 years later, Terrazzo flooring is still bringing innovative and creative building design to life.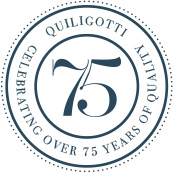 Proudly made in the UK
---